The 2023 Collections: 'Rogue' and '1000 Strokes'
The 'Rogue' collection is all about finding the common ground between flowing colors and the intersection of texture and lines. Rogue reflects a clean, contemporary, modern look with an edgy foundation. My "1000 Strokes" collection embraces colorful tonal shifts that lead you in and out of the painting. Let your eyes travel deep into the painting and create your on visual interpretation.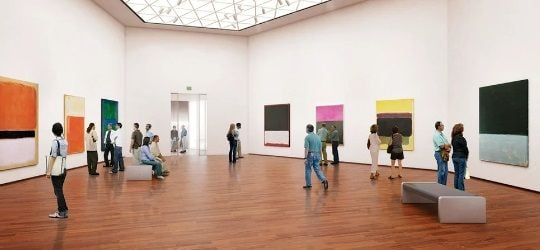 Cocoa Beach Art show, Cocoa Beach, Florida
Downtown Sarasota Art show, Sarasota, Florida
Beaux Art Festival, Coral Gables, Fl
Sat/Sun, Jan 13 - 14, 2024
Marco Island, Florida Art in the Park,
Dogwood Festival
Piedmont Park, Atlanta
Fri, Apr 12 - Sun, Apr 14, 2024
Inman Park Art Show, Atlanta
Sat/Sun, April 27-28 2024
painting Detail & Texture
The paintings have a rough texture giving them a deep, rich feel. I use sand and plaster to create the texture prior to painting. I then apply many layers of paint that penetrate into the sand, forming a bond and creating various shades of color. The decorative frame is hand built and cut to precision, then stained to compliment the painting. Clean, sleek, sophisticated, and modern.
Want to commission a piece? For those seeking their own size and unique blend of colors, I will create a painting that matches your current decor or help you create a color palette that will reflect your personal taste and style.
Originally from Buffalo, New York, I spent the real growing years in Dayton, Ohio. Now Atlanta has been my home for more than 30+ years. Since my early childhood, drawing, building, and crafting have always intrigued me. I was always the go-to guy for anything art! The interesting thing about art is the discovery. There's always something developing, whether intentional or not. The process can be laboring, but when something new comes along that I've created, it gives me great satisfaction. Nothing beats that!
Let me know what's on your mind. Send a note below